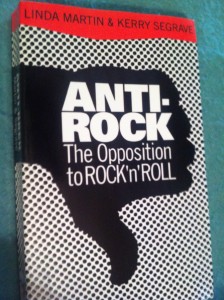 Anti-Rock: The Opposition To Rock 'n' Roll isn't, per se, about how white people stole rock and roll from the blacks who created it but the theme runs strong through the book. As with most things American, the original art form scares the living bejesus out of John and Mary Whitebread so steps must be taken to either kill it or to suck out what makes it great. I mean, really? Pat Boone??
The lobotomizing of rock began when white men started fraternizing with the help. This isn't a bad thing but, sadly, rather than hang out at the help's houses they grab their food and anything that's not nailed down and take it to our own houses where the help is not welcome. It's not that they wouldn't invite them into their  homes but…ya know…society is so cruel and maybe one day that will change but…until then, keep your eyes on the prize, proud, noble, black people!
Public Enemy got into a shitload of trouble with the lyric
Elvis was a hero to most
But he never meant, shit to me you see
Straight up racist that sucker was
Simple and plain
Mother fuck him and John Wayne
But this is what they talking about.
"HUH? Elvis Presley didn't write Hound Dog?"
No. No, he didn't.
"But Elvis was a champion of black music! He loved black people!!"
I've heard arguments that Elvis did black people a lot of good by stealing songs from black people. I think Big Mama Thorton would disagree with that. Again, back to Public Enemy
Most of my heroes don't appear on no stamps
The plot goes like this – you get white people "discovering" rock and roll. The parents get outraged over their kids listening to "nigger music" even if it's performed by white people. The "good music" industry tries to literally kill rock and roll but, in the end, it's too profitable so they allow it to live.
Kind of.
What they actually do is take Little Richard, straighten his hair, bleach him white, put a suit on him and nail his feet to the floor so he can't move. Then they attach their names to the songs he wrote and take his money. It's enough to make you quit rock and roll. Which Little Richard did for a time.
More insidiously, you replace Alan Freed, who truly loved rock and roll and played the original black versions of songs, with some smiling zombie like Dick Clark. This industry did this on purpose and Dick Clark knew what he was doing. The industry invented a payola scandal and pinned the blame of Freed. Payola, of course, existed well before rock and roll and Clark took his fair share of it. But, not so oddly, Congressional hearings at the time believed Clark when he shunted away owning a stake in the music he was pushing as simply "promotion" and condemned Freed for accepting money from the industry that was behind his own prosecution.
Clark came away smelling like a rose because he was so boring and drenched in industry-approved deodorant that his shit literally didn't stink. The government continued to hound Freed until he drank himself to death.
Read that again – "The GOVERNMENT continued to hound Freed until he drank himself to death.
Yes, the government. Freed spent his last years simply trying to cobble together a living as the IRS continue to break down his door demanding back taxes on the over-inflated amount of payola they accused him of taking.
Obviously, Dick Clark won because now we have Justin Beiber.
But the extent of the victory, the sheer Genghis Khan devastation of rock may shock  you and, hopefully, make you weep.
Rock and Roll started as black music. Budding white rock and roll bands knew this, covered the originals and sometimes did a great job. But what's the end effect? I did a very unscientific poll with my Facebook friend asking, "When you think of rock and roll, who or what band first pops into your head?"
With the exception of two people, everyone thought of a white band. There was one black guy that said Jimi Hendrix and a white woman that said Chuck Berry.
Such is the extent of the theft of rock and roll that black rockers like Lenny Kravitz, Fishbone and Living Color prove the exception rather than the rule. And, to my shame, when Lenny Kravitz first came on the scene, my first thought (and I wasn't alone) was, "black people don't play rock and roll! What the fuck?".
While this book focuses on rock and roll, the pattern shows itself in jazz. How do you go from Louis Armstrong to Glen Miller? When you hear "jazz" what first pops into your head?
Thus far, rap/hip hop seems to have broken this pattern. But let's remember it took MTV seven full years to recognize rap and, if I recall, Blondie's horrible "Rapture" got play before actual rap music did. But despite the Beastie Boys, Vanilla Ice and Eminem, rap manages to keep it roots intact.
So maybe that's progress.