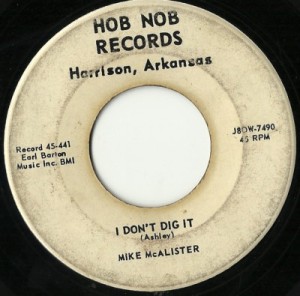 I'm driving much shorter distances and less frequently lately which effectively derails my 3 year streak of obsessively listening to audio books. I'm a little bit sad about that but not enough to want to go back to the stress and work load I had previously. Even with SiriusXM, I don't have much in common with radio. I guess that there's no room with all James Taylor and Elvis stations to host a free-form channel. Not that there's anything wrong with listening to every single live performance Sweet Baby James ever recorded. And not to say that I don't get into genre grooves.
Speaking of which…
I stumbled across a 10-CD set called Nasty Rockabilly recently which kept me company over the past several weeks. As a history buff and a cultural history buff, at that, I find old music fascinating, the more obscure the better. The songs that didn't make it, didn't make it for a multitude of reasons. In many cases, the glut of that new-fangled "rock and rock" music provided the greatest barrier to entry. With so many diamonds like Chuck Berry, Carl Perkins and the ubiquitous Elvis, shining out from some shitty little town in Arkansas or Montana proved nigh impossible even if you were a local celebrity. And a lot of the performers on this compilation don't appear to have reached that height. I only recognized Link Wray immediately. Almost nothing is known about Mike McAlister.
I want to highlight some of the songs of note here over the next bit of time. These songs grabbed my attention for one reason or another – either they rocked, had a cool hook, whored themselves shamelessly to exploit the trend, outright sucked or, in the case of I Don't Dig It, made me scratch my head.
Given there's no songwriting credit, I assume that Mike wrote this tune. And if you take the text as a psychological profile…don't date this guy…even in the 50's. The songs strikes me a musical cognitive dissonance. Early rock and roll garnered a reputation Satan's music partially due to its direct descendancy from "race music". The jungle beat forced normally placid, church-going white children to fornicate like savages. It also brought about a resurgence of the drag king movement with girls…not dressing like girls.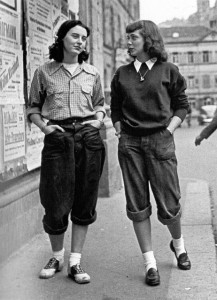 Given the loose sexual morals of rock and roll (and, remember, the original Tutti Frutti was about butt sex), finding a song decrying your girlfriend's dress code seems an odd choice of subject.
You're a real gone gal in your Sunday best
But when you go home, baby, you change to a mess
I don't dig it
I don't dig it
It ain't right
As with most control freaks, it's not about the actual issue. It goes deeper. And it's about sex or the lack thereof. The chronology and logic of the song confuses me. Here's two of the couplets in order.
When you give me a date, I jump for joy
But when I pick you up, baby, you look like a boy

Well, you tell me, pretty baby, I'm the only one who rates
But all I get from you is a 13th date
Notice anything weird? Swap those two lines and you get a clearer picture. Mike's gone out with this chick at least twelve times. Every time he's gone out with her she's looked like a boy and hasn't put out. Mike must really want to nail her to keep going back to an obviously dry well. The takeaway, then, is not how she dresses. He uses that excuse to get shame her into a dress that he can slip his hand under. Because Mike thinks if he can just get her started, she'll be up for some Tutti Frutti.
Ironically, wearing jeans promotes abstinence more effectively than skirts providing a greater…well…barrier to entry.
Check out the short article referencing Mike and Hob Nob records. This is the area The Band came from.