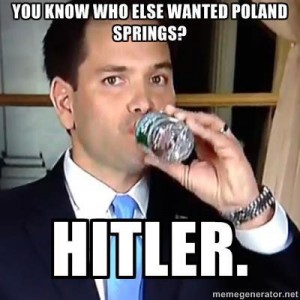 It's being called the "sip heard round the world", which is kind of a stupid moniker, but apt. No one thought that anyone could outdo Michelle Bachmann for Worst Performance During a GOP State of the Union response, but Rubio pulled off the upset.
But all of this mockery, the wingnuts whine – HE WAS JUST THIRSTY! Why can't you leave Marco ALONE?? That's a great question!
There are a few answers:
– Lying comes with physiological side effects such as sweating and dry mouth. If you're choosing someone who still has the trace of a soul, they might experience some of those. Liberals simply want to point this out.
– If wingnuts want to jump on every single mistake Obama makes and hold it up as proof of his incompetence, that's a two-way street. Obama said "57 states" so he's not qualified to be president? Perfect. Take you lumps and move on, lil wingnut. Better yet, STFU and go pay attention to your kids. They're not going to beat themselves, ya know.
– It's just really fucking funny.
The most important answer, though, is less obvious. Water-Bottle-Gate acts as a great metaphor for the GOP. They have no plan. They are not prepared. In short, they don't know what the fuck they're doing. The GOP response to the SOTU provides a perfect opportunity to for the GOP to come out swinging – to bash that Kenyan, Socialist, Commie, Marxist, Islamo-Atheist where it hurts. Even among Democrats, there's a lot to criticize. If you're the opposition, this should be like T-Ball. What Rubio showed is that the GOP can't even hit a ball that's resting on a pedestal. Rather, they swing, hit the pedestal, the bat bounces back, the batter loses control of the bat and it smacks a five-year old right between the eyes leaving the kid brain damaged. Yes, it was an accident. Yes, it probably won't happen again. No, you don't get to walk away blameless.
And you certainly don't make that kid the manager of the team.
Understand this – it's not about the lies that Rubio spewed. It's not about leading off with some bizarre pro-life message as the first point out of your mouth. It's about the fact that the GOP could not properly stage manage possibly the biggest opportunity to talk to the American people. Wingnuts say it's just a glass of water, a minor detail overlooked. That's true. Guess what? Minor details are important. Kinda like having an exit strategy for wars you plunge the country into. Or thinking through the various attacks that might rise up if you choose to run ruthless, rudderless businessman for president.
There should be a protocol in place to deal with, say, the speaker needing a drink. Or going all flop-sweaty. There wasn't. "Meh, Why should he need a sip of water when he's addressing 10's of millions of people?"
For his part, Rubio handled himself with the confidence of…a really bad confidence man. Rather than say, "excuse me, America", take his sip of water, say "thank you" and continue, Rubio looked like a little boy trying to get away with shooting a spitball at the teacher…while the teacher was looking directly at him.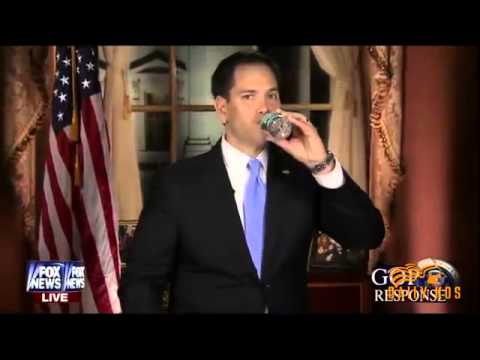 And if it couldn't have gotten any worse, the camera follows him down like some puppy dog saying, "OOOH! What's he DOING, huh? What's he DOING?! Is he gonna get a ball?? What's he DOING??!"
With the advent of the teabaggers, the GOP, once reliable for its staid dullness and ploddingly deliberate actions, turned into some bizarre freshman high school reality show.
So, why don't we leave Marco alone? Three words: You Built That.
(Here's my own contribution to Rubio Tuesday)