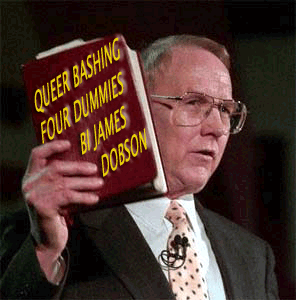 I know I'm not the most Christian person on the face of the earth…who am I kidding…I'm a fucking Unitarian Universalist.  In case you didn't know, we start of all of our "services" by chanting, "Bibles? We don't need no steenkin' bibles!"
But I've said too much.
What I meant to say was here's the beginning of a farewell to gay-bashingest, homo-hating-est, bush-dick-sucking, God-misunderstanding hellbound fucktard still alive today. I look forward to Focus on the Family folding  fabulously leaving behind a trail of debts and lawsuits that will make Bleak House seem as short as Bambi Vs. Godzilla.
Bye Bye Dobson…you piece of hypocritical shit
Podcast: Play in new window | Download