I've been off Crosstalk for awhile mostly because you can only listen to so much of this shit before I start having fantasies about playing Swimming With Sharks with Vic and the gang.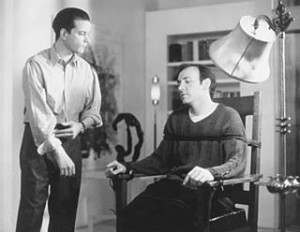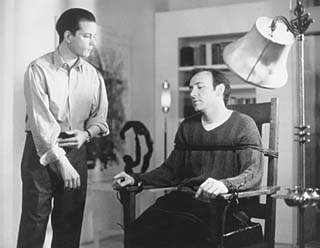 "Vic. There IS no homosexual agenda. What you claim is
the homosexual agenda was a satirical piece in a gay newspaper
that was read into the Congressional record without the pre-amble.
Say it!"
I'm not ashamed to say it. The lies and rationalizations warrant the harshest treatment imaginable. I heard a guy at an AA meeting once
If you wish good things for a person you hate for a month straight, that person at the end of them month that person will no longer be a problem to you. And it works. Usually, I wish that the person would go to Hell sooner rather than later.
A-fucking-men.
I guess it's a sign of the times that the 8/5/11 Crosstalk stands out as the quintessential guide to xtianity. It literally shows you everything that's wrong with this particular brand of SkyDaddy-ism.
Note: All clips are verbatim and not edited. There is one exception that I will flag. I cut out a chunk of crap for the sake of time.
Atheistic Scientists Waste Citizens Tax Dollars – Why do we bother exploring the universe when GOD created it? Three interesting things to listen for –
"interesting". Whenever a VCY host says this (and I'm pretty sure they're trained on the proper inflection) you know that bitter, Christly sarcasm lurks just around the corner.
"fiiiive yeeee-ers". The setup for the punchline. Normal people might think, "wow! Jupiter! I wonder what that will look like?" xtians only see xtian oppression and proof America's slow decline into Communism and race mixing.
Faux-folksy chuckle – I actually admire their delivery. You can just feel the old folks sitting in their nursing home chuckling appreciatively and desperately trying to remember the joke so they can tell it to their nurse.
You Are Automatically A Member Of Whatever Group Endorses You – The Communist Party endorsed Obama so Obama is a Communist. Makes sense, right? Hagee endorsed McCain so that make McCain and anti-semite. White Pride Preacher Pastor Pete Peters endorses Jesus. That makes Jesus racist.
This is the one that is edited. I took out Jim's recitation of the speech the godless Communist made which is all standard blah-blah and cut straight to the incitement to outrage of "get your reaction to that later in the broadcast." News round ups need that punching up in case granny needs her memory jogged.
Taxpayers Paying For The President Doing Things That President's Does – Whuh?? The President of the United States of America is going to travel around the country he's the president of and talk to its citizens??? AND WE'RE GONNA PAY FOR THAT??? How fucking dare he! Spreading commie propaganda, promoting the homosexual agenda and denying the supremacy of Jesus on OUR DIME! What has this country come to?
It's this kind of bullshit that makes me insane. As if Obama should pay for this out of his own pocket. Obama's townhalls accept all questions. He does them completely unscripted. I believe he's at his most powerful when he does them. All these wingnuts that say he can't function without a teleprompter need only to watch a townhall to know that he's actually better without it. What's next? "OMG! Obama gets room and board at the taxpayers' expense??"
Census Shows Gays Are Taking Over – Why bother to explain something when just stating raw facts with no context is so much more frightening? Gay households up 49% sounds like a lot…until you find out that the Census didn't previously include gay households. Kinda puts that into perspective, huh? Which is why it's not mentioned. The last thing you want is people feeling like the news may not be as horrific as it sounds.
Why Can't We Teach People That Jesus Loves Blowing Shit Up? – When you need to hold a class to twist the Bible to support your agenda, there's something wrong with your agenda.  Thus the Christian Just War Theory class ("Hey! C'mon, you pussy! It's just war") shouldn't really be needed. Since the Bible is God's inerrant word, we should all be het up and raring to wipe out the infidel Muslims, Commies, yada yada. Of course, if you're using the King James Version (commissioned by bi-sexual King James) it's gonna come out all wrong. Instead, use the Conservative Bible Project's version and all becomes clear.
Laws Against Lying Aren't Christian – The case that wingnut girls over at the Susan B. Anthony List, rather than staying home and taking care of their kids and serving their husbands the way God wants, instead descend, harpy-like, on anyone they feel isn't anti-abortion enough. They did this to Steve Driehaus, a Democrat who voted for the Health Care bill. Even though the bill does NOT include "taxpayer funded abortion", the girls put up billboards saying that Driehaus voted for taxpayer funded abortion. In other words, they lied. It's what Addison DeWitt would call "a stupid lie, easily proven."
SBA claims First Amendment rights for "criticizing a politician". But when does outright lying become criticizing a politician? SBA, like most wingnuts, screams to what they take to be the heavens any time someone challenges them. Like Jesus, they willingly climb on the cross, dripping blood on anyone foolish enough to come to close to them. Outside of the illegality of blatantly lying about your opponet, one would think that the whole "thou shalt not bear false witness thing" would come into play. You'd be wrong.
What amazes, amuses and saddens me about Crosstalk is just how far the rabbit hole they are. They do shows on how it's in the Koran that you're allowed to advance Islam with seemingly no clue as to how their actions mimic those of the heathen infidels. It's the same thing with religious supremacy. While claiming that bloodthirsty Islam won't rest until the entire world converts to Islam, they believe that they can't rest until the same wicked Muslims that want to convert the world to Islam convert to Christianity.
Old Chestnuts Never Die – One thing you may not understand about Crosstalk's special brand of xtianity is their deep and abiding hatred of any physical connection between body and soul. It's just not ok. Wicked things like "yoga" and "feelings" lead straight to the pit of Hell. I'm not kidding. They've done whole shows on the evils of Christian yoga which, according to them, can allow you to relax to a point where Satan can physically enter you. Basically, the moment you start feeling ok about yourself is the precise moment when you sin. Brannon Howse once said that he wakes up every morning and hates himself…so that he doesn't sin. I would think he hates himself because he's a lying, scumbag race-baiter, but that's just me.
Either way, Crosstalk never misses a chance to talk about how "new-age spirituality" and the apostates who love it, will no doubt bring down "the church" if they are not stopped and not stopped NOW. It's really the same Pavlovian trigger as "communist" and "homosexual agenda". The image of the earthy-crunchy devil worshiper with their beads and their crystals fires up the base as much a black man being president. So when some group comes out with the 10 billion beats to cure the world the through the power of a drum circle….well…I think it's ripe for ridicule but it's not evil.
HEYA! Let's go to the phones! It's really the main reason to listen to Crosstalk. The hosts and guests rarely match the level of crazy that Brother and Sister Xtian can bring. To wit –
I'd Rather Be A Terrorist Than A Commie – Mark came loaded for bear. He had a statement and he was gonna make it, gosh darn it! It doesn't matter that it makes no sense. He mostly likely heard it last night at the bar. Note the conditional "if I was a Tea Party member". That's some commitment! Note, too, how pleased Jim sounds.
How Can Obama Push The Muslim Agenda AND The Homo Agenda? – What a great question! If Obama is the devout Muslim that Shirley believes him to be, how can he push the homo agenda when Islam (just like xtianity) hates gay people? My question would be "Why don't we ever get pictures of him bowing to Mecca?" Shouldn't there be tons of those? Jim can't actually answer the question so he falls back on the "Muslims can do whatever they want to advance their agenda" line, effectively saying "do you expect consistency from the wicked Nation of Islam?" The question is answered by a caller later in the program. It turns out Muslims are using the homosexuals to destroy America and, once it's destroyed, will kill all the gays. Clever!
They Want To Make Us Give Up Our Capitalism – I love the callers that pretend they're actually sticking to the subject when they're going somewhere completely different. I also love callers the define "the enemy" as everyone who is not them. Thus, the New World Order consists of Jews, Muslims, gays and pretty much everyone who is not American.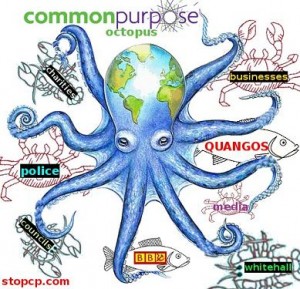 Exactly how would one be forced to give up their capitalism. I was pretty sure the whole New Word Order thing was based on capitalism. Right?
Uhhhhhh…Uhhhhhh…Uhhhhhh…I'm Crazy – Why is this best Crosstalk ever? Because, almost as if by (intelligent) design, they save the best for last. Daniel probably doesn't get to talk to too many people because he's busy cleaning he's guns when he's not collecting his socialist unemployment check and/or disability. You really have to wonder about folks who listen to Crosstalk and STILL have to ask what the "Muslim bible" is called. He's not even functional enough to remember that. And yet…there he is. Think about the construction of his statement –
Uhhhhh….Uhhh…what's the Muslim Bible called? Right. Uhhhhh…uhhhh…Isn't Islam bad?
But the coup d' grace comes with "the chemicals in our food are destroying us." Where the HELL did that come from? Perfect!
I really can't urge you strongly enough to listen to the whole show. Completely worth it!
Podcast: Play in new window | Download
Categories:
Bible, Blatant Assholes, Brannon Howser, CrossTalk, Family Values, Lovable Psychos, Obama, Pure Evil, Talk Radio, VCY America, Vic Eliason, xtians